GET TICKETS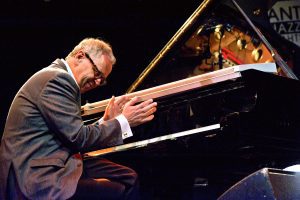 Our third annual solo jazz piano festival celebrates the VJC's 9′ Steinway concert grand piano, a gift from the Mckenzie Family Charitable Trust. This festival honors the piano's immense contribution in jazz by presenting leading and upcoming musicians who have devoted their lives to mastering the instrument's creative potential and stylistic legacies.
This year's headliners include NEA Jazz Master Joanne Brackeen, George Cables, Kenny Werner and Julius Rodriguez.
In Collaboration with the Brattleboro Music Center.  Concerts will be held at the Vermont Jazz Center on Friday and Saturday nights. Masterclasses, concerts of regional artists and panels will be held at the Brattleboro Music Center.
---
SCHEDULE:

FRIDAY EVENING FEATURE CONCERT: 
Time: 8 pm
Location:  Vermont Jazz Center
Solo piano performances by George Cables and Julius Rodriguez
SATURDAY DAYTIME ACTIVITIES:
Time:  10 am- 5:30 pm
Location:  Brattleboro Music School
9:30 am         Registration/Meet and Greet
10:00 am        Masterclass w/ Julius Rodriguez
11:00               Tom Cleary, Cameron Campbell- regional artist solo piano concert
12:15 pm         Masterclass w/Joanne Brackeen
1:15                  Lunch (in house, pre-purchase during ticket ordering)
2:00                Master class w/ Rebecca Cline
3:00                Panel w/ Juried Questions feat. Fest Headliner Artists
4:00                Franz Robert, Rebecca Cline- regional artist solo piano concert
5:00                Masterclass w/ George Cables
6:00                Dinner Break (on your own)
SATURDAY EVENING FEATURE CONCERT: 
Time: 8 pm
Location:  Vermont Jazz Center
Solo piano performances by Kenny Werner and NEA Jazz Master Joanne Brackeen
SUNDAY DAYTIME ACTIVITIES: 
Time: 10 am- 1:15 pm
Location:  Vermont Jazz Center
10:00 am     Piano Forum with juried students w/ Kenny Werner and Julius Rodriguez
11:30             Coffee and Snack Break
11:45             Effortless Mastery Workshop w/ Kenny Werner
1:15 pm        Festival ends