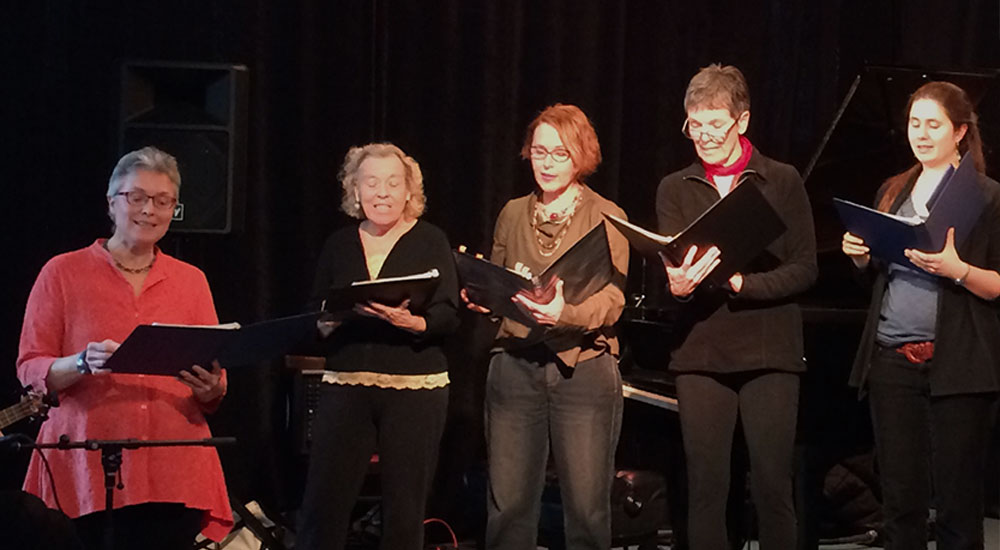 Soubrette Choir
Tuesday, 5:30 - 7:15 pm, BEGINS: September 10th, MEETS AT: 62 Spruce St, Brattleboro
Instructor(s):
Anna Patton
The Soubrette Jazz Choir sings intricate vocal harmony arrangements of swing, jazz, and blues, as well as songs by contemporary songwriters. 'Soubrette' is a term from musical theater for the non-leading lady who is usually more worldly, more instrumental in the plot intrigue, and funnier than the lead. We sing mostly these kinds of songs. Each semester we work up a short set, culminating in two or three performances with instrumental accompanists.
Choir members work on blend and precision in close harmonies, syncopated rhythms, and understanding chord progressions. We work mostly from written music and occasionally by ear. Recorded practice demos are available. While the choir is not auditioned, it is recommended for singers who like a challenge, read music, and have good ears. If you have any questions regarding the musical content and how you might fit in, please contact Anna directly: annameryl@gmail.com
Note: the Soubrette Choir is a women's choir, open to anyone who identifies as a woman or non-binary and whose vocal range comfortably includes the G in the middle of the treble staff.
To Register email Office Manager Ginger Morawski: ginger@vtjazz.org