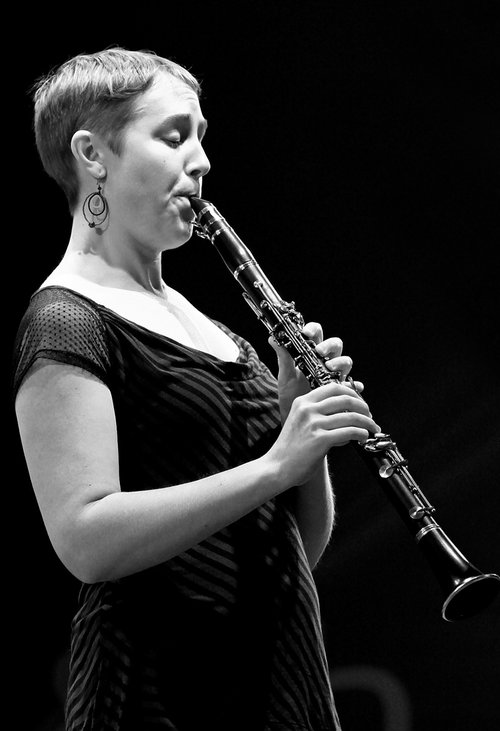 Anna Patton
year-round faculty
Soubrette Jazz Choir, Aural Skills, Improvisation, Clarinet
Anna Patton is a versatile clarinetist, singer, composer, and educator driven by musical curiosity. She is a founding member of the internationally touring dance band Elixir, which plays American and Celtic fiddle tunes with original trumpet-clarinet-trombone horn arrangements influenced by early jazz, R&B, and classical music. Other projects include duos with Andrew VanNorstrand and Julie Vallimont, the Julian Gerstin Sextet, and the collaborative cello-oud-percussion-clarinet quartet Dunham Shoe Factory with Todd Roach. She has released two CDs under her own name as well as recordings with Elixir and her other projects.
Anna teaches vocal and instrumental ensemble classes, music theory, and aural skills at workshops all over the US and in her home town of Brattleboro, VT. In 2006, Anna started the Soubrette Jazz Choir at the Vermont Jazz Center, which performs her creative arrangements of historical and contemporary American music in a fifteen-voice women's ensemble.
Daughter of beloved Vermont mandolinist Will Patton, Anna grew up learning a wide repertoire of folk, pop and jazz standards. As a teenager she sang with Village Harmony, with which she toured Bulgaria, where she also studied Balkan clarinet. She majored in ethnomusicology at Marlboro College and in 2015, Anna completed the Masters of Music in New England Conservatory's Contemporary Improvisation program. With a cohort of students from all over the world and all musical backgrounds, she collaborated on performances and studied with the school's extraordinary faculty of composers, improvisors, and ethnomusicologists.