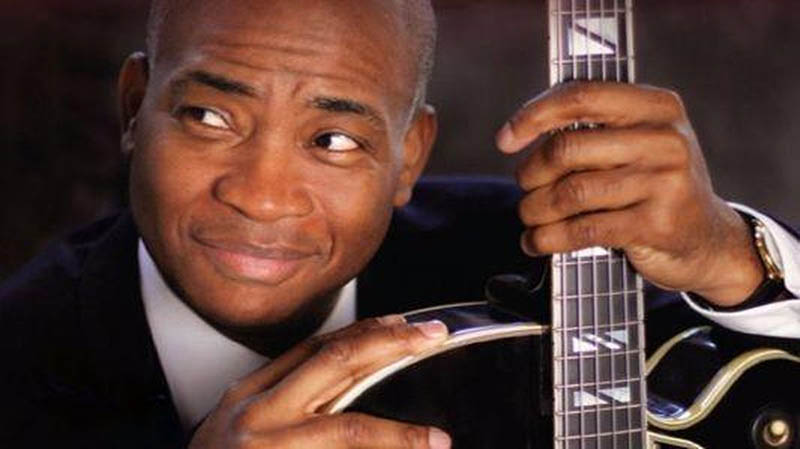 Russell Malone at the VT Jazz Center 3/16/19
by Louis Erlanger
When I was in college in the early 1970s I had the good fortune to have as a classmate Phil Schaap, whose deep passion for jazz bordered on the weird. Phil had grown up in a neighborhood of Queens, New York where many great jazz musicians had moved to get away from the grit of Manhattan. Among its residents were Louis Armstrong and Fats Waller. Phil spent his childhood knocking on the doors of his jazz playing neighbors, who invited him in because he was a cute little kid. Phil expressed his gratitude during his college years by booking these musicians regularly at The West End Bar, across the street from the college dormitories. I mentioned this place in my Louis Hayes blog because it was very special. On just about any day of the week I could see icons like tenor saxophonist "Vice Pres" Paul Quinichette, drummers "Papa" Jo Jones and Panama Francis, trombonist/guitarist Eddie Durham, pianist Sammy Price, and tenor guitarist Tiny Grimes, among many others. Every night was an upbeat, swinging jazz party, and at the time I had no idea how lucky I was. I thought this was normal. What I knew was better than normal was the gradual friendship I struck up with Tiny Grimes, guitarist for both Art Tatum and Charlie Parker, who over time traded me a few guitar lessons for use of my guitar amplifier. I wasn't skilled enough to fully understand what Tiny was showing me between sets, but I learned enough from his shows and lessons to know that the key to great playing is not complexity, but having a good tone, great phrasing, relentless swing, and a regular dose of the blues. Easier said than done, of course, but it's a good lead-in to this past weekend's Russell Malone show.
The show brought back many of these memories. Malone is all about tone, groove, and the emotional content of his material. And he clearly wants to have a good time. To a great extent, listening to Malone is like listening to an offspring of Tiny Grimes. Every note he plays out of his simple rig – a fat bodied D'Angelico guitar and a Fender Twin Reverb — rings out as clear as any trumpet or saxophone, and relentless swing is everywhere, even in the ballads. And like Tiny, he takes the tunes of his day and puts his own twist on them. Backed by a nattily dressed band (Rick Germanson, piano, Luke Sellick, bass, Anwar Marshall, drums) that seemed completely in tune with his priorities, Malone put on a show that was constantly engaging, uplifting and kept the audience moving throughout.
At the start, Malone seated himself center stage with his guitar and began speaking to an eight-year-old boy in the front row. He asked if the boy played an instrument, and told him he was glad he had come to the show. It was an ice breaker that set the tone for the informal, loose atmosphere Malone seems to enjoy. He then kicked off "Soul Leo" a Mulgrew Miller tune, hitting a swinging, Latin-tinged groove that slowly built to a climax in which the piano and guitar weaved in and out of a Chuck Berry beat, before gradually settling back into the tune's original groove. It was the first of many times Malone would reference a style of music outside of what is traditionally considered jazz. While some jazz performers appear stoic while playing, Malone's face is very expressive. He smiles, grimaces, and sometimes even looks surprised at what he has just played, as if to say to the audience "Hey, look at that!".
He followed "Soul Leo" with Cedar Walton's "The Rubber Man", a swinging tune on which each instrument soloed extensively, showing off the very high quality of the band members' musical chops. Luke Selleck was a standout, displaying a wonderfully buoyant feel and tone during his bass solo. Malone did not introduce the third tune, playing a chord solo alone before the band joined in, subtly shading the melody enough to only hint at what it was he was playing. But after a short time it became clear that it was "By The Time I Get To Phoenix", the Jimmy Webb tune made popular by Glen Campbell. Malone played lush, liquid guitar chords that interwove with Rick Germanson's equally lush piano chords, while Luke Selleck's bass alternately provided a solid bed, and then a moving line to offset it, working off Anwar Marshall's swinging cymbals. When the tune was over, Malone talked about what a big fan he was of Glen Campbell. Pushing back on what he perceived to be the audience's surprise that a jazz musician would look up to Glen Campbell, he lamented that "they don't have great musicians like that performing live on TV anymore". It was another example of Malone standing up to convention, stamping his repertoire with his own personal tastes.
Next he changed the pace with an original tune called "The Ballad of Hank Crawford", from his latest CD "Time For The Dancers". Malone played the guitar the way Crawford would play the sax, working his volume controls to make his notes cry, enhancing the backbeat as he soloed over gospel-tinged chord changes. He also used an interesting chord sliding technique that sounded like a horn section rolling down a hill. When the tune was over, Malone mentioned that he was selling his latest CD at the show and would sign it. "The CD is complimentary, but it's $20 for the signature," he said, winking at the audience. He then kicked off "Witchcraft" with some Freddie Green style chord-melody playing. The band came in with a mid-temp swing that was soaked in the blues, Rick Germanson playing Errol Garner style chords while Malone brushed his pick across chords to create a waterfall-like sheet of sound. He then ended the set with Freddie Hubbard's "Suite Sioux", which was kicked into high gear by a driving undercurrent of rapid bass notes, climaxing with a fantastic drum solo by Anwar Marshall.
During the break I bought Malone's latest "Time For The Dancers" CD and gave it to him to sign. While he was signing it I told him how his tone and swing reminded me of Tiny Grimes. He looked up and, with what I was learning is his natural gift for humor and understatement, responded, "I would say that is a compliment!"
Before launching into the second set, Malone took time to publicly praise the food and the local beer at the Whetstone Station restaurant, where the band had had dinner. Once again he focused on the young boy in the front row. "Beer's not for you," he said. "Stay away from it. It makes you want to play the guitar". Then he kicked into the original tune "Honey Bone", a swinging bossa nova from his "Triple Play" release. He followed that with an original ballad called "Love Looks Good On You", working through its beautiful melody and chord changes with an almost acoustic tone on his guitar.
A highlight of the second set was Malone's version of Duke Ellington's "Sophisticated Lady". Beginning the tune without the band and picking with his fingers, Malone cycled through hints of a number of tunes, including "Greensleeves" and "Lost In The Stars", before revealing, as the band came in behind him, that "Sophisticated Lady" was where they were going to settle. It was a soulful version of the tune with some breathtaking dynamics.
For the last tune of the night, Malone asked the audience if it wanted "a funky tune or a fiery one". When a woman yelled out "fiery!" he raised his eyebrows and launched into a fast swing. "I don't yet know what this will be," he said with a wide grin on his face. With that the band traded solos on a frenetically paced swing tune that was a wild ride to cap off the evening. The audience left the Jazz Center in an upbeat mood. If there is one word to describe the show, I would say it is "personal". Everything Malone played had his own personal stamp, and his accompanying musicians understood it and enhanced it. That's what good jazz is all about, right? In fact, two people I ran into a few days later said they were still thinking about the show.