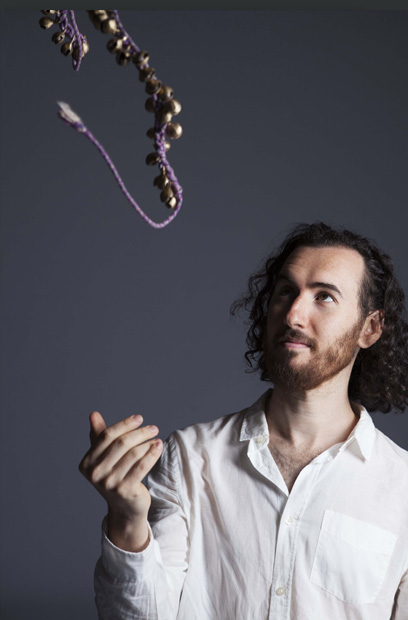 Brian Shankar Adler
summer workshop faculty
percussion
Brian Shankar Adler is a prolific drummer, percussionist, and composer. He is most at home playing a set of drums augmented with found objects and percussive instruments from India and South America. Critics have noted his earthy sound palette, complex compositional design, forward-thinking rhythmic concepts and melodic nature. "Adler's music flows organically in pursuit of mystery, movingly existing in an ultimate state of fluidity," says Jordan Richardson of Canadian Audiophile.
Born with the name Shankar, Brian was raised in an ashram. He began his musical training at the age of five, reciting classical Indian drum syllables and providing the heartbeat for chants on a mridangam and later a drum set. As a young adult he traced his family lineage to South America and Eastern Europe, finding and developing connections to these musical traditions as well. Adler pursued his studies at the New England Conservatory, where Bob Moses and Ran Blake helped him to develop a percussive voice drawing from several diasporas.
Since 2005, Brian has resided in New York City, where has presented music in halls, clubs, museums, and sacred spaces including New York's Carnegie Hall, Lincoln Center, Rubin Museum, Smalls, Roulette, and Joe's Public Theater. He has been recorded on over thirty albums and has worked with Bash the Trash, La Bomba de Tiempo, Bombay Rickey, Chelsea Clinton, Harvey Diamond, Elizabeth Swados, Guillermo Klein, Kate McGarry, and LA Opera; and has written, helped to develop and performed on various film, commercial and theatrical scores including "Of Many," "Nomad" and "Thumbprint." He has been featured on WNYC's "New Sounds" and in Jason Bivin's book Spirits Rejoice. Brian currently operates Circavision Productions, a production company and record label that has released ten records, and through which Brian leads The Human Time Machine, Helium Music Project, and Prana Trio.
Brian teaches privately in Brooklyn, at the Brooklyn Conservatory and VJC Jazz Camp, and is a presenter at Vermont College of Fine Arts. In 2013, he published A World of Percussion, a book that explores windows into rhythmic creativity using concepts from around the globe.